GTA: The Criminal Enterprises - The Loop
Play Sound
Superconduct is the Elemental Reaction triggered by inflicting Electro on a target that is already affected by Cryo or vice versa. This reaction deals AoE Cryo DMG in a 5m radius and reduces the Physical RES of all enemies in the AoE by 40% for 12 seconds.
Superconduct does not apply Cryo to targets hit, and therefore cannot trigger further elemental reactions.
Damage
Superconduct DMG is calculated as Level Scaling/Reaction#Level Multiplier.
. Element Level Multipliers for every level can be found in
Superconduct DMG is only affected by the level and Elemental Mastery of the character causing the reaction, and the target's Cryo RES. It ignores the target's DEF and cannot deal Critical Hits. The Elemental Mastery DMG Bonus and the target's Resistance multiplier are applied multiplicatively with the Base DMG.
Level
1
10
20
30
40
50
60
70
80
90
100
Base DMG
(Characters)
8.58
17.07
40.29
68.15
103.69
161.80
246.44
382.82
538.72
723.43
—
Base DMG
(Enemies/Environment)
8.58
17.07
40.29
68.15
103.69
161.80
245.24
360.09
473.19
601.41
837.40
Note that one target can only take 2 instances of Superconduct DMG every 0.5 seconds, as limited by the Damage Sequence.[1]
Environment
Superconduct can also occur in the environment when dealing Electro to water that was previously frozen by Cryo, shortening the frozen duration and causing the water underneath to be Electro-Charged. However, no AoE damage is dealt, nor does the Physical RES of any nearby enemies decrease. Superconduct will not occur when dealing Cryo to Electro-Charged water. However, using Cryo on an Electro Crystal or Electro on a Mist Flower will also cause Superconduct and deal DMG to nearby enemies.
Tutorial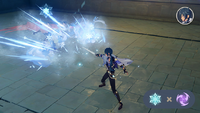 When Cryo meets Electro, Superconduct occurs. Superconduct will deal AoE Cryo DMG, and will decrease the Physical RES of any beings affected by Superconduct for a time.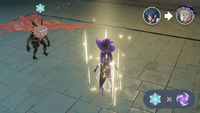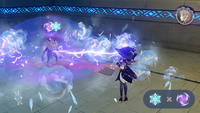 Switch characters in battle to use Cryo and Electro attacks in tandem to trigger Superconduct and defeat your opponents swiftly!
Artifacts
These artifact sets increase the damage from Superconduct reactions.
1 Artifact Set matches the category selection:
Gallery
Hover over previews to view in higher quality.

Other Languages
Language
Official Name
Literal Meaning
English

Superconduct

—
Chinese
(Simplified)

超导


Chāodǎo
Superconduction
Chinese
(Traditional)

超導


Chāodǎo
Japanese

超電導


Choudendou
Superconduction
Korean

초전도


Chojeondo
Superconduction
Spanish

Superconductor

—
French

Supraconduction

Superconductivity
Russian

Сверхпроводник


Sverkhprovodnik
Superconductor
Thai

นำไฟฟ้า


Nam Faifa
Electricity Conduct
Vietnamese

Siêu Dẫn

Superconductor
German

Supraleiter

Superconductor
Indonesian

Superconduct

—
Portuguese

Supercondutor

Superconductor
Change History
Version 1.6
Increased the damage from Elemental Mastery for Superconduct
Increased the base damage for player-triggered Superconduct above Level 60

Previously, the base damage for players was identical to the base damage for enemies and environment.
---
Superconduct was released.
References