Cooking Ingredients can be transformed into other desirable Cooking Ingredients used in Cooking by processing them.
Queuing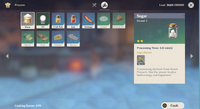 Processing an ingredient requires a certain amount of materials and time to complete. Which materials, and how long, depends on the item(s) a player is trying to process. Each material can only have 99 processing each at the same time (for example, 99 Flour and 99 Cream). One should be cautious as once started, processing cannot be cancelled and thus the materials are unreturnable.
List of Processed Items
Processing can be used to create 12 Cooking Ingredients:
Community content is available under
CC-BY-SA
unless otherwise noted.