Ascensions and Stats
Ascension
Phase
Level
Base
ATK
2nd Stat
(Energy Recharge)
0✦
1/20
39
8.5%
20/20
94
15.0%
Ascension Cost (0 → 1)
1✦
20/40
113
15.0%
40/40
169
21.9%
Ascension Cost (1 → 2)
2✦
40/50
189
21.9%
50/50
216
25.3%
Ascension Cost (2 → 3)
3✦
50/60
236
25.3%
60/60
263
28.8%
Ascension Cost (3 → 4)
4✦
60/70
282
28.8%
70/70
309
32.2%
Ascension Cost (4 → 5)
5✦
70/80
329
32.2%
80/80
355
35.6%
Ascension Cost (5 → 6)
6✦
80/90
375
35.6%
90/90
401
39.0%
Total Cost (0 → 6)


105,000
Mora
2
Fetters of the Dandelion Gladiator
6
Chains of the Dandelion Gladiator
6
Shackles of the Dandelion Gladiator
3
Dream of the Dandelion Gladiator

10
Chaos Device

12
Chaos Circuit
18
Chaos Core

6
Damaged Mask

10
Stained Mask

12
Ominous Mask
Lore
A mediocre work of fiction telling the tale of an ordinary fellow who finds himself in another world after death.
The world is filled with dangers. Steel monsters as vast as galaxies lurk beneath the ground and devour people in the thousands.
But there also exists a powerful being who can make the room comfortable in any season and turn night into day with a snap of his fingers. This is a story as groundless as it is meaningless.
It only shares one thing in common with the real world: all the precious metals are owned by a handful of individuals, who keep them locked up in safe boxes.
Preview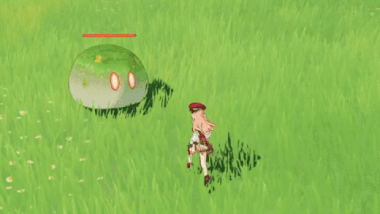 Gallery
Availability
Change History

Weapons
 

Swords
 

Claymores
 

Polearms
 

Catalysts
 

Bows