The Information on this page or in this section is based on version 1.0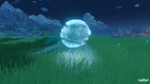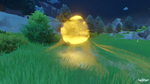 Players are able to open Ley Line Outcrops that appear in the open world to spawn a few waves of monsters. By defeating all of the monsters, a Ley Line Blossom will be revealed.
If the player chooses to open the Ley Line Blossom by using 20 Original Resin, it will give the player Adventure Rank (AR) EXP and either Character EXP Materials (Blossom of Revelation) or Mora (Blossom of Wealth).
Unlocking
The outcrops that reveal a Blossom of Revelation are unlocked upon reaching AR 3, while those that reveal Blossom of Wealth are unlocked at AR 12.
Rewards
The amount of Adventure Rank EXP and Character EXP Materials or Mora you receive by completing an outcrop depends on the player's current Adventure Rank (AR).
Respawning
One of each type of outcrop will always be present in each region of Teyvat (Mondstadt and Liyue). When an outcrop is completed another will spawn somewhere else within the same region.
Community content is available under
CC-BY-SA
unless otherwise noted.