Raise a Floppa - The Loop
Play Sound
Frostbearing Tree's Gratitude is an Offering System that is leveled with Crimson Agates. It can be found at the Frostbearing Tree in Dragonspine, Mondstadt.
Rewards
Raising the Frostbearing Tree's Gratitude's level requires
 Crimson Agate ×10 and must be offered in groups of 10. A total of 110 Crimson Agates are required to reach the maximum level.
All levels reward
and the following:
Total Rewards
Crimson Agate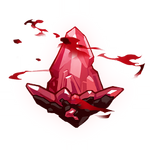 Only 80 Crimson Agates can be found in Dragonspine. They are obtained by finding them in the open world, chests, and after defeating some Time Trial Challenges. Others can be found by revealing certain secrets.
The 80th Crimson Agate is obtained by feeding the foxes from the Lost in the Snow world quest. After feeding the foxes for 5 days a Precious Chest will appear on the 6th day, Travelers will receive a Crimson Agate and earn the hidden Untellable Tale achievement upon opening the chest.
Travelers may complete Crimson Wish quests to obtain more Crimson Agates to offer to the Frostbearing Tree.
Crimson Wish
In addition to the rewards listed above, once the Frostbearing Tree has reached Lv. 8, Travelers will also unlock Crimson Wish. Five new Crimson Wish quests will become available every Monday and Friday, which can be completed to receive Crimson Agate.
Crimson Wish will no longer refresh once the Frostbearing Tree has reached its max level.
Achievements
3 Achievements match the category selection:
Change History