The Information on this page or in this section is based on version 1.0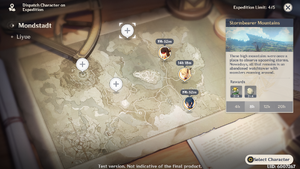 Players are able to send characters they are not using in their current party on Expeditions to gather materials or Mora.
Unlocking and Usage
Players unlock the Expeditions system at Adventure Rank 14 (AR 14). Once unlocked, the player can go to the Adventurers' Guild in any city and send any character, aside from the Traveler, on an expedition for 4, 8, 12, or 20 hours to return with rewards. The type of rewards are determined by where the character is sent, but the amount of each resource received may vary slightly. The timer for the duration of each individual expedition counts down even when the player is not online.
While the character is away, they cannot be placed in the player's active party, unless the character is recalled from their expedition early. A player can recall a character from an expedition from within the party setup menu, or at the Adventurer's Guild. Recalling a character early will forfeit any rewards, so plan accordingly. While setting up a party for the Spiral Abyss, the player can use a character that's on an expedition without recalling them.
Players at Adventure Rank 14 can only send two characters on expeditions at once. As the player increases their Adventure Rank, they increase the Expedition Limit cap, which allows them to send more characters on expeditions at once.
| Adventure Rank | Expedition Limit |
| --- | --- |
| 14 | 2 |
| 26  | 3 |
| 31 | 4 |
| 36 | 5 |
Reducing Expedition Duration
Certain characters as a tier three talent will reduce the time of expeditions in specific nations. Currently there are four characters, two for each nation that will reduce the expedition time by 25%.
List of Expeditions
Mondstadt
Liyue
Community content is available under
CC-BY-SA
unless otherwise noted.